Archive : October2011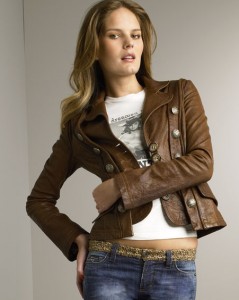 Winter season is around the corner and the leaves are changing colors. It's time to change your wardrobe and rope in leather outfits. Leather is definitely the best option to feel warm and also stylish. Every man or woman should have a leather jacket in his/her wardrobe. Any fashion enthusiast cannot be called on without a leather jacket-be it any style or color or even size.
Leather jackets at best places:
So if you are looking for fashion and comfort then leather jackets are the best option. They look cool and highly fashionable. Before winter starts its wise to go grab one of the best leather jackets because during winter the prices can soar high. Do not limit your search to just malls or fashion boutiques. You can also search online for fashions stores who more often than not these stores offer discounts and sales and you can find yourself walking away with the best leather jacket at very pocket friendly prices.
Many styles offered:
There are many styles available in leather jackets. One of the most famous styles is the bomber jackets and also the biker jackets. They have always existed only that this time the styles are way different from the previous ones. Bomber jackets are for those men and women who are hardcore bikers and are always on trips and adventurous activities. They need to keep themselves protected from chilling weather. A bomber jacket or even biker jackets offer protection and also style. There are many styles available in these jackets. Some come with zippers, some with flip flap pockets.  They act as a redeemer to many in chilling weathers.
Break the norm and pay with colors:
For the more fashionable ones there are skinny leather jacket available in every fashion market. They look hot both on men and women. They are tight fitting and come in many sober designs and colors. When talking about color, once can think of only once color and that is black. You do not have to restrict yourself to the color black. You can also go for colors like brown, red, blue or even white.
Leather jacket once bought it is totally upon you how to maintain it because a leather jacket does need utmost care and maintenance.