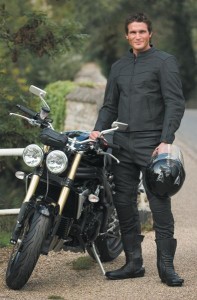 Wearing leather jacket and riding a bike can make you look like a member of the biker gang and it also has the ability to make you look classy and stylish. The motorcycle leather jacket is one outfit that will speak for you and will make you stand out from the crowd by leaps and bounds. It is very important that you select a leather jacket that suits your taste and makes you stand out in the crowd. It's like selecting a second skin for yourself so it should be the one that suits and matches your style and personality.
An efficient motorcycle leather jacket will always have a fitting that will comprise of comfortable stuffing which is fitted efficiently o the chest, shoulder, arms and back, these padding are made of fiber which will protect the rider in case he/she meets with an accident, thus saving the riders life. These padding are so comfortable that the wearer will not even feel it when wearing it though they do make the leather jacket a bit heavier. Weather protection is another major concern for the rider; the motorcycle leather jacket should be more flexible and survive the harmful weather condition thus protecting the rider.
Leather is one favorite material when it comes to selecting a jacket for a biker. The classy designs and rugged finish is what makes this the most favored item in the motorcycle industry. Enough has already been said that the leather jacket protects the wearer from cold winds and abrasion because of the rugged nature of leather. These jackets are designed with a little bit longer back to protect the back as the rider's tilts in front. The designer leather jackets have always attracted many leather enthusiasts and they continue to do say.
The color of the leather jacket is very important as this is what will separate you from the masses; there are various options available apart from black leather jackets. The desert brown, sand brown and bark brown are the latest trendsetters in the leather industry.
Select your motorcycle leather jacket carefully and dominate the fashion highway in style.
Comments