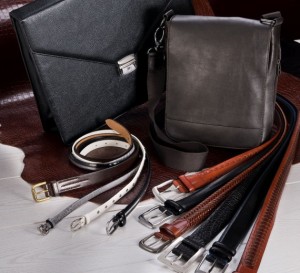 Leather dresses, leather pants or even leather skirts and leather jackets are incomplete without the perfect accessories. If you have worn a leather outfit, wearing a leather accessory is not a wise option. Because leather all over your body is a turn off.
So team all your leather accessories perfectly and flawlessly. If you have worn a pretty evening dress, you can wear pretty leather belts around your waist. Leather belts are very smart and hip. It looks classy when teamed up correctly. If you have worn a leather pant with a sexy striped shirt, you can wear a leather belt around the waist. It is the perfect wear to office. You will surely attract attention from everyone around.
Another trendy leather accessory is leather clutches. They do not suit everyone, but only those who know a thing or two about fashion. If have a great fashion sense, you can use leather clutches to any events that require or demands elegance and sophistication. A strapless dress with a leather clutch or a skirt with a leather clutch will look stunning. Adventurous trips are the best occasion where you can wear a leather clutch. Shorts, tee-shirts, nice and trendy shoes and a clutch are the best and comfortable way to go for a trip.
Another commonly followed trend is ladies using leather bags. It does look smoking hot. Only that you should know how to carry it. Leather bags look sexy with dresses and also tight fitting leather pants or even denim jeans. They are the classiest way to take your fashion quotient to another level together. You will also look different and unique. And any lady using a leather bags is sure to be the center of attention.
All the above mentioned leather accessories are the latest in trend and every man and woman with a sense and love for fashion will know how to use them and bring the best out of theses accessories. So grab your favorite and look mesmerizing in a crowd of millions also.
Comments