Archive : July2010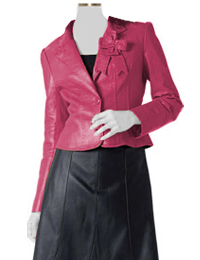 Putting together a professional wardrobe can be quite a tedious task altogether. Your attire should speak volumes and reflect your personality when you are trying to create an impression at your workplace. Image and appearance play a very important role. Formal clothes can get quite boring and humdrum at times. The same shirts, blazers, skirts and trousers may not help you stand out from the crowd and give you the push that you need to climb the ladder. At this point, leather comes to the rescue.
Every woman needs innovative wardrobe solutions while going for work. It's just a myth that leather can't be used as formal wear, formal leather apparels look very stylish and chic. This is a versatile fabric and one should make the most of its versatility. Leather fashion has grown by leaps and bounds over the years. There are a variety of leather formal apparels available.
Tips on how to spruce up your wardrobe with formal leather collection,
Leather blazers are a great style statement. It's a unique style that looks extremely stylish with casual as well as formal wear. If it's an office presentation, a press conference or an important corporate meeting, you can team up a fashionable leather blazer with a dress or a skirt. There are a lot of new patterns that are in vogue lately amongst the youth. Notch collared blazer with a pretty looking bow on the collar looks very feminine. Blazers with ruffles in the front also look fantastically edgy. You can experiment with colors like beige, red and tan. Formal clothes don't essentially have to be black and white or light colored pinstripes. They can be darker shades as well.
Leather skirts are another style that is ruling the roost lately. They have been here for years now. They look perfectly apt for a corporate ambience. Team it up with stylish thick belts and fashionable eye glasses and you will be all set to leave on indelible mark on everybody's mind.
Leather dresses are a complete fresh style. You don't have to worry much about combinations and accessories if there's a leather dress in your wardrobe. Working women who want to save time dressing up must incorporate one in their wardrobe. Just pick it up and wear it. You can spice it up by teaming it up with chic looking pumps and a scarf around your neck.
Make sure you aren't revealing much, not all workplaces are open minded in terms of clothing. Inappropriate dressing might affect your career in the long run. Incorporate a tinge of unconventionality in your dressing style and you will be all set to have a flourishing career.
Leather fashion has grown by leaps and bounds lately. The leather apparel industry has undergone a major overhaul which makes it all the more easy for leather aficionado's to satiate their craving for this durable fabric. The rugged leather look embraces all and when it's a red it's definitely an icing on the cake. If you want to take a break from the humdrum black, a bright and fascinating red is sure to breathe life into your wardrobe and make you look like a million bucks.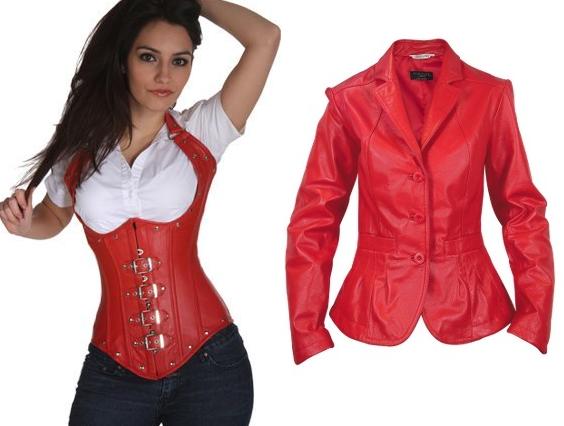 A red leather jacket is every fashion conscious woman's delight. It is sure to create an enviable combination with whatever you team it up with. There are myriad styles available in women's leather jacket. You can always opt for a red military jacket, something with epaulettes on the shoulders, nickel studded or a sporty red bomber etc, there are options galore.The latest vogue is cropped jackets. They are jackets that are exactly waist length or higher. They look supremely stylish on women. Also jackets with ribbed cuffs create quite a statement. Men can create a fancy statement by donning a red notch collared or a plain stylish bomber jacket. The red color would definitely accentuate their sex appeal to the hilt.
Red leather pants are another hot style that is sure to make you the cynosure of all eyes. You can never go wrong when teamed up with a smart white tee. Playing with colors like these always breaks the monotony. Skinny, straight cut, boot cut or low waist pants are options you can explore. Red has its own charm. You can look like a style icon if you have worn the right combination. It has the power to attract and leather looks the best when it's a red.
If it's a party or a casual get-together with friends, women can don a leather halter top or a leather mini skirt. Teaming up plays an integral role in whatever you wear. A black and red combination looks fantastically swanky. If you don't want something in complete red, you can always opt for something that has a tinge of red in it.
For instance, a jacket with black and red combination will look good. A harmonious combination of a smooth durable fabric like leather, a chic pattern, edgy cut and a magnetic color like red is sure to make you stand out from the crowd.
When you have a fixation for something you make it a point to go out of your way to possess that particular thing. Leather fanatics have a lot of reasons to celebrate. There are myriad options and styles that are thronging the fashion marketplace and this is perhaps the best time to cash in. Leather pants are very much in demand lately and if worn in a right way, it will truly make you look like a million bucks.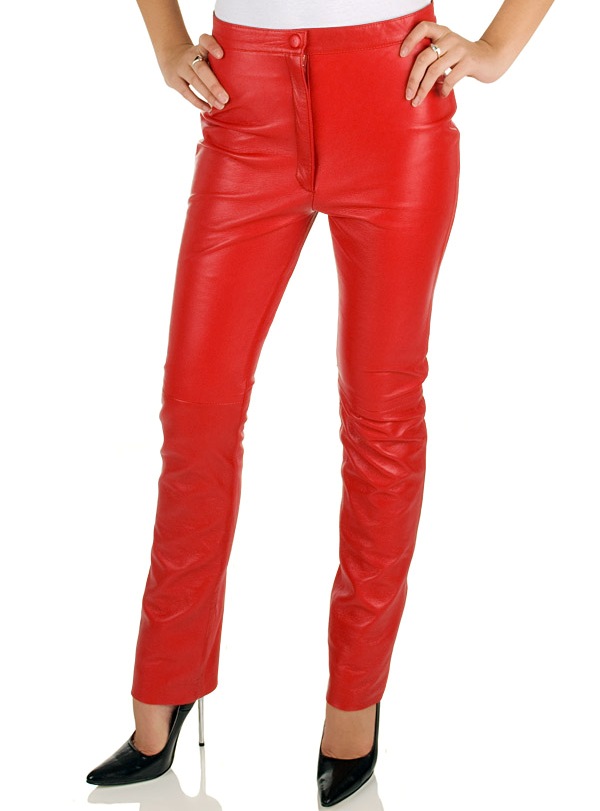 Combinations those are sure to make you stand out from the crowd,
You don't have to essentially stick to conventional black leather pants. A cream or a chocolate brown can add a tinge of spice to your wardrobe. It is not advisable to wear somber colored clothes all the time. Colors have the essential quality to uplift your mood and there could be nothing better than incorporating funky colors in your closet.
Spruce up your look by donning a combination of skinny leather pants and smart canvas shoes. It looks supremely smart on both men and women. If you have a lean body frame, a pair of skinny leather pants would look really stylish. There are motley of colorful and innovatively designed canvas shoes available which would complement your trendy skinny leather pant look perfectly.
The quintessential plain white tee is generally considered a saving grace when you either have nothing to wear or to divert the attention from your ill fitted jeans. But the conventional white tee has its own charm. When worn with a stylish pair of leather pants, it will make you look nothing less than chic. You can try printed tees, plain ones or funky cartoon printed ones, there are options galore that would help you look like a real style icon.
Try wearing your leather pants with pointed toe or open toe pumps. Pumps are very much in vogue lately and they make you look nothing less than a diva. A woman who can carry off a combination of skinny leather pants and pumps is sure to be the cynosure of all eyes.
Team up your leather pants with a smart leather jacket. This combination is sure to impart a very youthful look to your persona. If you are a hardcore biker a nickel studded pair of leather pants with a notch collared camel colored jacket will look perfect. Women can mix and match with a funnel collared or a military styled jacket. There are a number of patterns available in leather jackets; thereby it wouldn't be a tedious task to create a harmonious combination and spruce up your appearance.