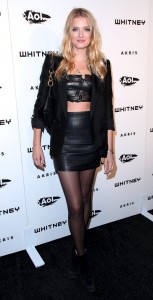 Leather is one word that would set anyone off in goose bumps. Who doesn't love leather? It has always been there and always will. Every girl or a woman should have at least one leather outfit in her wardrobe. Most importantly a leather pant and a leather skirt is what everybody, I mean every fashion lover should possess. Here are a few reasons as to why be it so necessary to have a leather skirt in your closet.
The appearance a leather skirt gives:
In today's world looks matter a lot. So wearing anything that looks displeasing on you is definitely a bad option. One good thing about leather skirt is that it cannot make anyone look bad. They look sexy and hot. The length of the leather skirt can be decided by you. It can be a mini leather skirt or a knee-length skirt. It can never go wrong.
A leather skirt is versatile:
When it comes to versatility leather skirts will top the charts. Whatever your body type, size or color might be, there is a leather skirt for everybody. There are so many styles for casual wear, professional wear. Pick the right style for the right event and look elegant or hot. You can also find leather skirts with zippers and flip-flap pockets. They are the best bet for a casual wear.
Shades of leather skirts:
You do not have to stick to the stereotypical black color when picking a leather skirt. Make the most of what you are being offered and see how it works wonders for you. Pink, red, brown, grey are many of the colors available in leather skirts. Pick a color or shade that will suit you the most.
Leather skirts also have different materials:
When you are out shopping for a leather skirt, pick a skirt of the highest material. Even leather has types like lambskin, cowhide or even suede. Lamb leather is soft and shiny; cowhide is more rugged and rough. Invest your money in the perfect skirt and remain happy forever. It is worth every penny.
Comments