Archive : October2011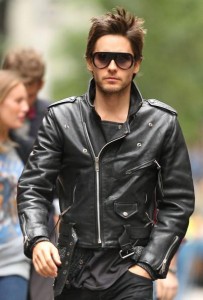 Leather fashion trends are designed to be more ladylike for this fall season, you have a whole lot of new collection and designs that will definitely sway away your mind, making you the stand out in the crowd, the styles, shapes and colors have definitely taken an upbeat mood. The newest fall trend has taken its inspiration from retro looks, the classy tailored lines rich details is what you are going to find. The luxurious fabric is back in its top most form. This is now your time to raise your style quotient and get noticed.
The tongue in cheek patterns with new colors and beautiful soft textures is what will make you look like a beguiling beauty. The sleek, short, crushed leather apparels are the latest craze and should be donned in style by every fashion enthusiast. These styles need to be combined with perfect clothing to get that maximum attention.
Leather apparels like leather jackets, leather pants, leather vest, leather dress etc are just perfect for the upcoming fall season. The versatility, texture, and the upbeat style just cannot be missed.
Untainted Modification
There is actually an army of leather coats being prepared for this fall season with refined looks and styles, the vintage influence has been adopted from the 40s and 60s, the new leather coat that you can opt for are sleek with complicated cuts and pure style. The true ladylike features are what the look is for this fall, so it is time for you to showcase your feminity in these classy styles.
The True Colors
From the traditional autumn tones and hues to the colors of the fall season, the designers have been able to upgrade their colors for the falls season. The subtle colors like blush pink, powdered blue are eye catchy and look great, the caramels and creams are also doing the rounds. To contradict the season's hues colors like electric blue, turquoise and rouge are the definite attention grabbers for the slim fit leather coats and jackets.
The Western Influence
With the western wind blowing this fall season, the leather apparels have also been influenced with the true western style like the saddle stitching which has been used to showcase the rugged legitimacy, the fine detailing on shiny, polished leather looks just right for the upcoming season.
This season the importance has been given to details and so the leather fashion can be carried in style making the wearer look savvy and attractive.