Archive : June2011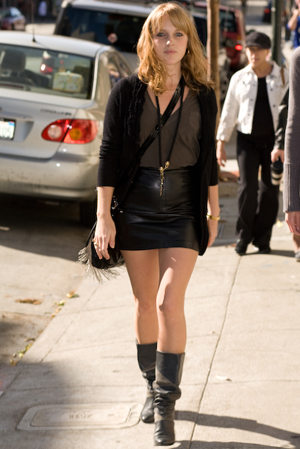 Summer time is here – it's the season of bright colors and fun dressing. It's also time to prepare your wardrobe for beach parties and cocktail gatherings and just silly reasons to hang out and make the most of the glorious sunshine. Summers are synonymous with skirts and skirts are an absolute must have when it comes to a summer wardrobe. Denims and cottons are the tried and tested summer fabrics. It's time to stand out from the crowd and make an impression. Its time to discover leather!
Leather skirts are like a fashionistas dream come true. You can short, long, calf length, asymmetrical – the choice is all yours. Fill your summer wardrobe with a multitude of leather skirts. Here are some excellent summer leather skirt options for you:
A Line Short Leather Skirt:
This will look great for casual outings with friends. Combine you leather skirt with a nice floral top, a pair of kitten heels and let your hair loose. If you are in the mood for something ultra casual, the just combine the leather skirt with a simple cotton tee shirt and sports shoes. Tie your hair up in a high pony tail and go for the fresh look.
Ideal colors: for the casual look you can select a leather skirt in pastels as well as the traditional black
Formal Pencil Leather Skirt:
Just because its summer, you can't really skip office no matter how much you want to. So you can at least dress better to lift your spirits. Select a narrow pencil style leather skirt that ends just a little below the knees. Preferably always mix this with a solid color formal shirt, full sleeves and tucked into the leather skirt. Add a string of pearls, a pair of decently high heels, tie your hair back and you are absolutely ready to show off your professional image.
Ideal colors: for the formal look you can select a leather skirt in deep dark shades as well as the traditional black. Brown is an ideal color too.
Straight Fit Leather Skirt:
Clubbing, partying and just a naughty time out – the straight fit leather skirt is for those times!