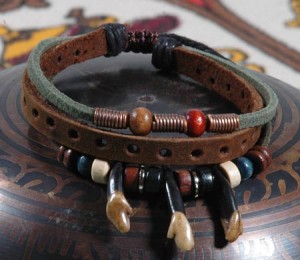 Men and women both like to wear leather bracelets due to its sheer elegance. In traditional times also these soldiers and other common men wore leather bracelets for protection and to maintain a classy look. They had their own inherent eminence of clan bonding and symbol of their kingdom. In modern times, these leather bracelets are merely used to go with the dressing style and have a style statement for themselves.
Leather bracelets can be made from many animal skins that are generally used to make leather clothing. They can be studded or have buttons on them. Some of these bracelets have sharp or blunt metal studs on them to bring in a tough look to your personality. Many bikers and sportsmen use these leather bracelets to make them look sturdy and brawny.
Some of these leather bracelets vary in thickness and design patterns. You can have big and thick leather bracelet having some imprint on the surface. Nice polishes to such leather bracelets make it look flamboyant and precious. Floral and geometric patterns are one of the most common designs found on leather bracelets. They are often modernized by having hooks and loops made of metal or leather itself, hanging from edge or the body of the leather bracelet.
Leather bracelets having cuts and slashes for their surface also look quite commendable. They fit in to your persona and bring out your real character which makes you very expressive. Some of this cut-ins is of different shapes and that is what defines the solidarity of the leather bracelet. You can also have the insignia of your group or community on you leather bracelet. This shows the faith and belief you have to your background and values.
Leather bracelets having just a color definition for the whole surface also look very gaudy and respectful. These are now among the big hit in accessories. Leather bracelets are worn by people of age groups and there is no stereotype attached to any of it. This is what makes leather bracelets so popular among people and common mass.
Having embroidery works on leather bracelets is in fad. They can be of any material, silk linings are among the growing trend on leather bracelets besides satin workings and other thread detailing on their surface. Leather bracelets can also have bead and shell works on them. This makes them look more charming when suited with right clothing. You can have precious and rare shells on your leather bracelet and also have the kind of shape you desire for the bead work on their body.
Leather bracelets which have double laps or hooked-in knots on the surface looks very creative and are frenzied among people. These can be worn in parties and also daily with casual clothing. Some of the somber leather bracelets having dark shade of colors and antique buttons look good with tradition style of dressing. Those leather bracelets having abstract designs look good on casual clothing and make for an adventurous spirit in you.
Comments