Archive : June2009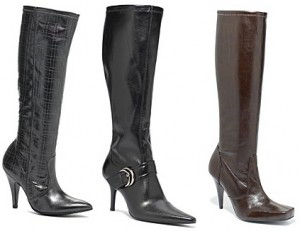 Sexy dresses take appearance to the height of seduction is well known, but have you heard that shoes can also do the same. Yes, it's very much possible. Poke out for thigh high boots and find your sexy appearance surrounded by many seductive eyes.
Thigh high boots are symbolic representation of allurement when it comes to footwear. Their magical silhouette add glamour quotient to personality. Length wise they vary from above the knee to above the crotch. Various fabrics are used in their making ranging from all time favorite leather to synthetic materials like latex, vinyl and polyurethane to fabrics such as silk, polyester micro fiber and so on. With regard to heels high heels from three to seven inches are more popular in thigh high boots. Low heel versions are also available but not so much in demand.
When it comes to their suitability with figure, thigh high boots look best on tall women. They tend to draw attention to legs and thighs and also make her feel and highlight slender figure. Tall women should go for tight thigh high boots. On the other hand, fatty women should opt for loose thigh boots in order to conceal their fat. For short women it's recommendable to avoid thigh high shoes as these highlight a woman's shortness rather than accentuating her legs.
Adjectives like aggressive and assertive best defines thigh high boots. They are available in various forms like slip-on, zip-up, lace up etc. Lace-up thigh high boots shows off a little skin, thus the choice of audacious and super-confident women. For adjusting the fit thigh high shoes are offered with gussets, straps etc. They are even embellished with buckles, glitters etc hence glamorous women find them much appealing.
Amongst all leather thigh high boots are the most seductive and stylish. With every outfit they make a great pair. Raise your sex quotient by pairing them with short leather skirt, mini skirt, tight jeans, leather pant etc. In winters leather thigh boots look all the way more amazing as with looking sexy they also protect the wearer from the cold biting.
Thigh high shoes are worn to raise sexy feminine factor more than functionality. Add a great oomph factor to your looks and leave an impression of sexiness than about any other factor.