Leather briefcases are one of the prominent accessories use by men in their office hours. These briefcases are available in many colors styles, shapes which are immensely fashionable to carry.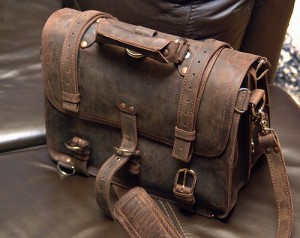 Leather is the lavishing and classy material to use but we have to consider that every coin has two sides, just like that; leather has many advantages as well as disadvantages also. Therefore, before buying a briefcase you should be conscious of its benefits and drawbacks of it.
It is very difficult to choose a briefcase as today many a times you don't get pure leather every time when you shop from any normal shop. If you really seeking to get a pure leather briefcase that is made up of Italian leather then, that leather costs you a lot. If it's normal cow of lamb leathers it will cost you little less.
Leather itself a symbol of richness and that is why, Leather briefcases is definitely a style symbol it shows how much classy you are as it gives a rich touch to your image. Leather briefcases do suit on every outfit you wear to office. Normally leather briefcases acts as exact complementary to your dress as it has the soft and glossy touch many a times. Leather is durable if you keep it clean and tidy. You cannot use it in every season like other briefcases as leather gets fade or damage in rainy season if you don't take care of it properly. Leather bags even get affected after certain period of time as it is a skin of an animal if pales after some time and doesn't look fresh enough instead bags made up of metals or other material needs less maintenance and doesn't damages in short period of time.
Leather briefcases are not much handy as you have to take care of them properly you cannot just dumb your stuff in to the bag. They are not much protective also. It cannot take care of your important papers much as it cannot be a shield like the other bags. Other material bags are handy and you can dumb your stuff into it. Moreover, you can use them in any situation.
Leather bags are extremely elegant and merge well with your any outfit.  Pure leather is quite expensive and hence, you have to get some black or brown shade so that it will always match with your belt and your shoes. Leather gives classy look but you have to use the same bag for long time as it is expensive you cannot buy new bags frequently, unless you have a good bank balance. Whereas other types of bags that are made up of metal or hard plastic are more durable and cheep so you can get many colors and you can keep changing it whenever you want.
Comments