Archive : September2009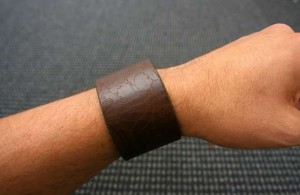 Bracelet is a very famous jewelry of women. Just one bracelet is enough to enhance beauty of hands. Nowadays furore for them is on the high. Women are seen looking for them at every store, online store etc. This piece of costume jewelry gives exotic appearance.
Stupefying designs with which they are adorned is the main reason of their high popularity. They are broad and narrow both and are available in variety of colors. Every age women wears bracelets. Materials used in the making of bracelets are varied such as metal, lac, glass, plastic, shell, wooden, bone, stone, jute, ivory etc. But the most popular material that is on the boom and is highly purchased is leather. Leather bracelets greatly portray fashion.
With fashion, leather bracelets also represent class of a person and enhance personality. They are favorite's of celebrities too. Leather bracelets are famous amongst men and women both. Their feel is also strikingly unusual. They come in a wide variety of styles, colors and designs. In an entire ensemble leather bracelet is enough to make fashion statement. They are also versatile with respect to making statements and can make any like simple, modern, subtle, and bold or stuck with spikes. Leather bracelets can also be made personal by engraving message or first letter of person you are gifting to on it.
The eye-catching part of leather bracelets is that they are available in hip and unconventional designs both for the fashionable mass. Embroidery, studs, nickels, stones, beads, pearls, etc. all are used in the designing of leather bracelets. Similarly different leathers are used in their making like cowhide, lambskin, buffalo hide, pigskin and ox skin etc.
Leather bracelets trend is popping up everywhere from the runway to the red carpet to the street to the office. And with so much buzz about these bracelets, designers are coming up with fashion forward pieces. Craze for them will never fade as for leather it didn't become passe since years.