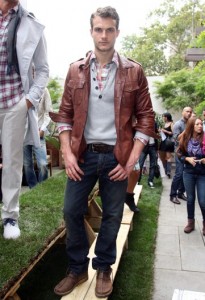 This fussy attire i.e. leather shirts, has successfully managed to gain a huge popularity and achieved good amount of respect from the customers due to its versatility and charming appeal. Fashionable shirts are designed in a very remarkable manner with the use of genuine leather fabrics that not only appear rich but also give you good level of comfort to the wearer when worn with other trendy outfits.
Leather shirts provide you the perfect appeal when blended with baggy jeans or denim pants whereas one of the best combinations is pairing your leather shirt with a funky studded jacket and cool denims that would give out the ideal tough and masculine look. These apparels are manufactured in various other assortment styles which amend as per the changing of the season. So, if you are looking for something rich and elegant then men's leather shirts is just the one for you which you can wear them ion any occasion be it formal or informal.
Leather shirts are considered as a sign of fashion which is the trendiest option for men who can come up with. Diverse other features are the leather shirts made from 0.8mm cowhide leather that makes it ideal as well as light for wearing it on a regular basis. The full sleeve design is simply prefect for the bike riders. These shirts are lined with polyester fabric with two front pockets and metal zippers that makes them comfortable for the wearer. The metal zippers on the cuffs add more amount of style to these men's leather shirts. Few shirts also come with sleeve modish designs with snap on buttons in the front provides a western look when worn and is perfect for the winter weather that provides you warmth and coziness.
Leather shirts for sure carry style and elegance where the polished reddish-brown touch of leather symbolizes quiet elation and calm sophistication. The terra cotta chrome is definitely appealing and pleasing for all the men around the world. The chocolate tint which the leather has motivates the aesthetic instant effect of these modish individuals.
Leather shirts are not new in this fashion world and are evenly worn throughout all the seasons. These are stylish yet trendy but some of them are not recommended to be worn during hot summer seasons. This trendy piece of attire is fashionable and can be worn either as a party wear, office party, during biking or simply when hanging out with friends. It is an all time favorite quick pick of men when nothing seems to be working well with your body.
This apparel has always served huge purposes for men in the vein of shielding them from the chilly weather as the material used in making these outfits are tough and thick, which makes them a timeless piece of style. You can either team it up with nice rugged jeans with a pair of canvas shoes or boots. So, go ahead and don these trendy apparels which will make you stand in the crowd.
Comments