The leather clothing is sure to make a woman stand in the crowd and is available in all sorts of shades and hues where you can simply convey yourself with lush pinks and greens that are running hot this season.
A woman's wardrobe should include a pair of leather accessories as well as clothing's where you can take the benefits of the slim and sleek pants style and jackets. This also helps in covering the body curves and displaying your most excellent assets. Colorful leather pants teamed up with flowing tunics or delicate tops set a fire when worn at red carpets. This pairing is really good for the summer season as the lightweight materials of the clothing generate an airy and comfortable appearance which reduces the fiery look of your leather pants.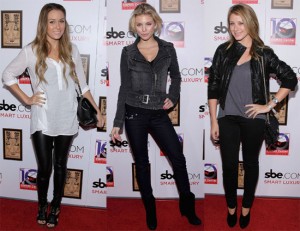 The cowboy theme, leather tops and jackets are still in style but do also ensure that you do not pile up with many leather accessories like boots, bags etc. The chic cowgirl look in a leather jacket and a skirt or a fringe top with a leather skirt can turn on many eye balls at the same time.
Well who will dare to forget Britney Spears "biker chic look" outfit when she slipped in for music awards that left turning her into a fashion faux pas. Take this into consideration while you decide on wearing leather apparels. It is not always necessary that you dress up in leather outfits only as this will make you look loud and bawdy. You can simply match your outfit with some other synthetic materials and also keeping the color of your outfit restrained. Opt for colors like teal, off white, white if you are bugged up with the typical brown and black leather.
A leather blazer is something which a woman should have in her closet. Leather blazers have always been in vogue right from the modern era which completely charms the persona of a woman. The most popular shade that is preferred is the color red which looks simply stunning when paired with the right kind of fitted denim jeans.
If you are still into a big dilemma in sporting leather apparels then think about buying leather accessories. Leather bags, leather gloves, shoes and wallets are the other accessories which are simply perfect for a striking addition to any closet. Hollywood beauties like Alicia Keys and the sensational Paris Hilton are rarely seen minus a leather bag in their hand. So, investing on a quality leather bag will be more proper to be worn on any sort of occasion.
Leather belts are the best accessory that stress on your personality, making you look modish and sustain well with the clothing whereas the leather wallets which is a big fashion investment makes the perfect accessory and also compliments well with a woman's urbane guise. Leather shoes are very versatile fashion rudiments that hasn't is still in trend where you can opt for toe shaped round shoes with supple leather sole is for sure a showstopper look.
Comments