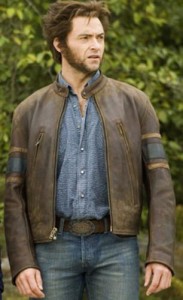 Leather clothing has always existed.  It did go missing in between but it is back with a bang.  The best part about leather outfits are that they are very trendy and at the height of fashion. You opt for a leather outfit anywhere and anytime it will never go wrong.
The main reason why leather is back is mainly because of movies. These days many movies see a lot of leather apparel especially leather jacket. Many stars have worn a leather jacket on screen for their respective roles. They look really cool. If you belong to the category who believe that leather jackets look good only on stars, then you are absolutely wrong. Because if you have a knack of fashion you too can look good in a leather jacket. Leather jackets have been worn by many movie stars since many years.
Hugh Jackman in one of his movies was seen wearing a leather jacket. The way he carried it off, it looked really cool.  In one of the scenes he wore a brown color leather jacket with a long zipper at the sides.
Brad Pitt, Arnold, Will smith and many more actors have worn leather jackets in a unique way. Each one of them looked distinct from each other. They pulled off really well. The look of the leather jacket depends on how you carry it and what you team it up with. It does wonders to a person's personality. Suddenly you will feel like you
Even pop stars in their music videos have worn leather jackets. Be it a lady or a man, everybody these days wears them. One of the best types in leather is the skinny leather jacket. They are tight fitting and it looks cool and funky. Movie leather jackets are in a great demand these days. Almost every college girl or boy can be seen in those sexy fashion outfits.
So look cool in a leather jacket and take your inspiration from movie stars. You are sure to rock and look cool. Be high on fashion with these outfits and invest in them.
Comments