2011 has seen some of the most fascinating leather fashion of the century, this year has rocked with tight leather pants which have been adorned fashionably by celebrities and fashion enthusiasts. The popular biker style was seen on the runways which reminded of the action from the past leading to instant love for the classy fitted biker leather jackets, slim and slender looks for women made them look more appealing. Above all leather dresses have donned the leather apparels this year giving a sophisticated look to its wearer making her the cynosure of all eyes.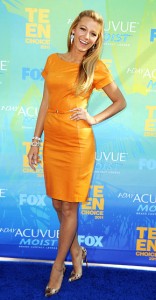 This year the leather fashion has been screaming down the runways in style, the designers left no stone unturned to design the best look possible for the closing of the season, famous actresses like Jennifer Aniston and Blake Lively have been spotted wearing classy leather dresses on red carpet. Blake Lively looked lovely wearing the orange color leather dress which made her look sensuous and seductive, The body hugging dress is worth the praise, it featured a boat neck pattern with the a beautifully designed small leather belt. The dress fitted perfectly up to the knee length. The best thing about leather is that you can reveal too much with exposing any skin.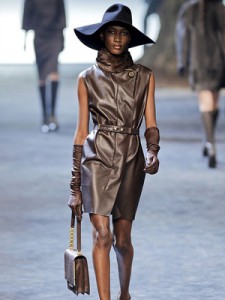 The bold colors have been the fashion this season; celebrities were seen strutting the rugged fabric in style wearing all kind of vibrant colors in the form of leather pants, leather coats, leather jackets etc. Jennifer Aniston was seen at the premier of her movie Horrible Bosses wearing a beautifully fitted leather dress, trust me ladies leather does have the ability to make the women look younger. The talented actress showcased her amazing curves wearing this classy sleeveless above the knee length leather dress which was powered by stylish footwear making her look elegant and charming. I am sure the premiere was great and the movie is nice too.
One breathtaking outfit designed the robotic style by Zac Posen looked great on the runway; this is one outfit which you would love to have in your wardrobe. It's time that you jump the fashion wagon and don the beautiful leather dress in style. The basic high neckline fashion is back from the 60s.
Comments