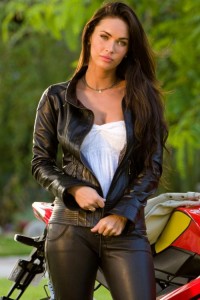 You may want to look like a celebrity and adore their style. Try one some leather jacket style worn by celebrities in the movies and during functions. The era of celebrity influence on clothing style has grown quite remarkably among women in recent times hence people tend to adopt their look and seem stylish. Leather jackets have been used and worn by top class celebrities quite often.
No one can forget the look Kelly Mc Gillis carried in 'Top Gun' movie in the leather bomber jacket while riding his bike. Many women fell in crazed love with that and it is still among the top demand. People of all age group still try on this style he brought into the minds of people. Even men liked their women partners to sport a leather jacket of that style. It will make you flaunt your curves and bring out your rawness.
Megan Fox in the 'Transformers' movie series wore a surprisingly bold leather jacket which was known for its polished and slim fit. Women have since then made this a necessary leather outfit for their closet. She made the world go crazy with her leather jacket attire and her design pattern of leather jacket is craved by women. You can try a pair of that style and wear them to parties or while riding bike.
Rihanna wore a charming leather jacket in her new album "we found love"; this has created frenzy among women and is among the best celebrity style leather jacket. Youngsters as well as middle aged women are rushing to get hands on the leather jacket of similar type. Beyonce Knowles is an American singer and she has brought in a new rage among women by sporting bold and fancy leather jackets. Her style leather jackets have now flooded the market. You can get one comfortably for yourself and strut around with amazing aura and charm.
The technological side of movies revealed a touch of elegance with 'Trion legacy' movie in which everyone adorned leather jackets which looked superb and have now filled the market with an extensive look. You can try some versions in them and look beautiful. The glazed look of these leather jackets are preferred by many women. You can have your style collar and cut shape in this version of leather jackets.
The look Pam Grier carried in 'Foxy brown' movie tugged at the hearts of many women due to the leather jacket she wore. Jennifer Aniston style leather jacket is also famed. She naturally wears them in award functions and has adorned a variety of it in many movies. Her leather jackets have revolutionized the look of every woman. You can have a similar type leather jacket for yourself. There are many official websites which provide discounts and a perfect similarity to her style leather jackets.
So get the choice of your leather jacket according to the celebrities you adore and gel in with current trends with a stylish look
Comments