Archive : March2009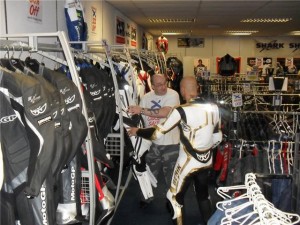 Motorcycle leather jackets is one of the most unconvinced and luxurious leather products available today, they are the epitome of the leather fashion industry. These jackets not only protects the rider from abrasion and cold winds but they are also life saviors apart from being rugged stylish. If you wish to accessorize you leather jacket then there are various options which of course depend on your personal taste, some people like it flashy and some like it simple, but personally I would love to opt for customized leather jackets which offer great fitting with style and look elegant.
The black and brown leather jackets are soon going to fade as there are various options available today when it comes to colors. Colors like red, sand, beige are the latest trends in motorcycle leather jackets. These colors can be combined with any outfit and no need to mention they look great.
Always look out for these pointers when you are planning to buy a leather jacket. These tips will help you find a classy, high quality leather jacket
Quality:
Leather is a very chic and durable fabric and is perfect for item for clothing. The rugged and stylish nature of leather is what makes it even more in demand and must have for bikers. Quality of leather is always a concern, always beware of faux leather jackets, you will understand the difference once you look at it, the smell, the softness will differ form the original. Original leather jackets have that unique smell which you can smell and even feel it, this leather will definitely be a little expensive.
Style:
Short, colored, cropped are the latest in style leather jackets, leather jackets like bombers are classics and look great with their ribbed waist and wrists, the armored leather jackets are especially designed for bikers to save them for abrasions in accidents. Opt for customized fits as they will suit your body type and match your style.
Where to Buy?
Online web shops are the best shops to shop your motorcycle leather jacket from, these jackets are available at affordable rates, but if you have huge mullah then you can also opt for designer wear or go for customized fits, but online shops are the best when it comes to shopping for latest styles in motorcycle leather jackets.