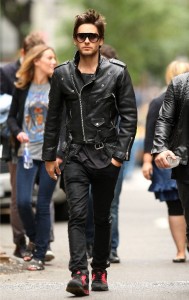 Leather clothing is always have been on the top of the fashion world. Many people now a days, do prefer to wear leather clothes because they make them feel comfortable as well as stylish. Leather is the latest trend in men's clothing and it will last long because leather never goes out of fashion.
If you are planning to shop for some new garments in upcoming spring, then leather clothing is the best option to choose. Leather will make you look lively and youthful as well as underline the masculine looks in you. Men always look best when they wear leather clothing as they provide the exact identity to men and their body.
Leather trends always have been in the fashion and many celebs do use them to flaunt their image and class. JUSTIN BIBER, one of the youngest singer in the industry wears leather pants, jackets, etc. it is as if he has set his identity for himself and the fans. Leather gives him classy looks and desiring image. He was spotted many a times in leather clothes.
In latest trends for men, leather has come up with the variety of cloths which will boost the men's fashion and it will help them to create style statement. Men's leather pants are the classiest outfit in recent days. They have many colors and textures as well as they make men feel comfortable when worn for any party, concert or official meetings.
Leather jackets are one of the basics of fashion. For men to look stylish and to achieve the latest trend they just have to put on the leather jacket with their outfit and they will be in the league of fashionable and trendy people. Leather jacket have intense impact on the crowd and hence leather jacket always be the latest trend.
Most favorite actor BRAD PIT has spotted in the leather jacket. It was the rugged type of leather jacket which was enhancing his masculine looks. Moreover, giving him the stylish image that was making him look fabulous on the street.
Now-a-days leather has spread worldwide and everybody wears leather to make them look stylish. Therefore, HUGH JACKMAN the heartthrob of x-men series was spotted wearing the leather shirt with plain gray t-shirt that was making him look stunning amongst the crowd.
Leather shirt is the one of the new and stylish avatar for men, which has introduced to boost the persona of men. Leather jackets are available in many colors and many types of leather. You can use it as a proper shirt as well as the simple jacket on your plain t-shirts.
Leather chaps is the trendy outfit for the men. Leather chaps are used by many men who love ridding bike and the horses. Your avatar for biking or horse riding is incomplete without the leather chaps. In latest trends, leather chaps have been more popular amongst men.
Therefore, if you trying to get something trendy and which goes with today's fashion then go for leather clothing it will satisfy your every need of being stylish.
Comments