Archive : September2011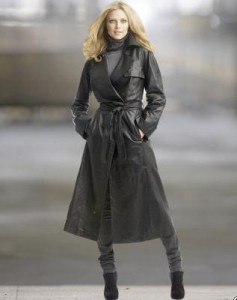 If you wish to be covered in all leather this fall season then look further than leather trench coats. This is one outfit which continues to remain in news generating good and bad reviews, some say that the matrix era is over and trench coats make you look more like a shooter from a mafia gang rather that creating a fashion statement, but the truth is this is one and single piece of clothing which has remained in fashion for many years. It is considered a one of the most versatile accessory that can e worn to office protecting your formals from getting dirty in case you use the public transport for your daily travel.
This is one piece of clothing which separates boys from men giving the men an edge over boys to score more than the boys can ever do in their hoodies. During earlier days the leather trench coats used heavy leather like cow hide to make it look more rugged giving the wearer a raw appeal. It's a perfect shield to protect you from cold winds and rain. These days the latest designs include double breasted leather trench coats making the wearer look trendier and providing insulation as compared to the high neck buttoned collars and the belt patterns of the past.
The color of the trench coat is important, when selecting a trench coat black is the color that will hit your mind first but there are various shades of brown that will make you more appealing. The sales of these leather overcoats have sky rocketed after their stint in the movies as they were donned by celebrities. Trench coats have been popular since World War 1; they get their name form the war field which mentions their usage in trenches. These trench coats were only available to officers and their superiors as they were available in few numbers.
During the Second World War these trench coats were seen in abundance worn by officers and their superiors. The leather trench coats have been getting maximum attention and they became the most sought after fashion items all over the world.