Archive : July2011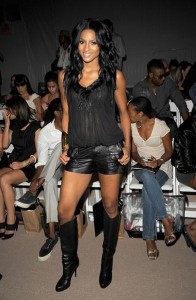 Dispel the myth that leather cannot be worn in summers…so let's break some ice on that…There are leather apparels designed especially for summer and as it has been said before that leather never fades out of fashion.
Actually leather apparels designed for summer are thin and rugged and also have a thin lining of cloth inside the apparels which still keeps you cool and it definitely makes you stand out from the crowd. This summer is filled with classy leather fabric which is available in various shades and designs.
So! Let's take a peek through the summer leather fashion this season and find out what's being worn by the high street fashion enthusiasts.
•    Leather Shorts: – Shorts are the best way to beat the summer heat; and leather shorts give you the edge to beat the summer heat in style. Shorts such as knee length; short leather shorts are available in many fashion boutiques; if you do not believe check out the latest summer trends of 2011. Pair it with trendy leather boots and a cute summer top to achieve that true summer chic look.
•    Leather Tops: – Lightweight leather tops are available in halter neck style and can be worn during this sultry season. They will not only make you look classy and elegant but also make you a showstopper.
•    Leather Jackets: – One of my personal favorite style…it actually does not matter if it is summer or winter or autumn or spring; I just love wearing them. They are definite attention grabbers and who does not like attention. Lightweight thin leather jackets are available in many colors such as red; blue; pink; green; yellow etc to suit your summer attire; but classic black and brown color jackets still dominate the fashion market.
•    Leather Pants: – The ultra chic fashion style of summers is now available in the form of loose leather pants. This leather apparel is here to stay as it doesn't matter what you have to say.
Who does not want to look like a fashion model walking the high fashion street in style? If this is what you want to be then trust me leather fashion looks cool for all seasons.