Archive : July2009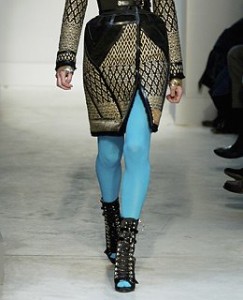 Want to look sophisticated and polished, bright tights are good option. From fashion viewpoint also they are hottest trend presently. Bright tights give life to drab outfit and add stars to appearance.
Wearing it is a fun. They can be taken to different places like dating, office, party etc. To create signature look in bright tights it's must to know how to wear it? Wear it right and you can gain an iconic status. But there ways of wearing bright tights, breaking whom can end up in disastrous appearance.
Keep tights simple
Bright tights are like an accent for outfit. They are enough to make statement. Thus do not load them with other accessories like jewelry, hats, bags, scarf etc. As they are efficient is making statement, similarly does not take much time in ruining appearance if overdone.
Avoid same color all over
Avoid wearing same color all over with bright color tights. Like if wearing a pink dress, do not pair it with pink tights. It gives tacky look.
Wear them with cowboy boots
Leather tights can be best paired with cowboy boots and mini dress. It turns look of dress into a super hot number.
Do not avoid black tights
No doubt it is the time of bright tights but do not overlook black tights. Their importance will never fade and they are still as slimming and sexy as ever. Black tights give a whole new dimension to your wardrobe.
Avoid with casual outfits
Bright tights do not look good with casual outfits. This combination gives flimsy look. They only work well with fancy dresses.
These are the rules of wearing bright tights. Now let us know the types of bright tights and how to wear them?
1) Printed bright tights
Printed tights have scaled heights in fashion. They are all the rage this season and perfect to be worn for evening party. Elegant floral patterns are their most liked design and add a dramatic touch to evening outfit.
2) Seamed bright tights
Seamed tights are amongst the fashioned items. Adjectives that describe this outfit best are chic, slimming, haute and classy. These are also less in its praise. They go well with every dress ranging from suits, skirts, or dressy dresses etc. With classic pumps and simpler shoe styles they look awesome. They are made up of luxurious and textured fabrics.
3) Floral bright tights
Floral bright tights are stunning and impart the breath-taking appearance. Do not mix them with other floral items. Instead, opt for solids and textured fabrics.
4) Paisley bright tights
Paisley tights are extremely pleasing to eyes. They are also great for jazzing up the outfit. If want to achieve ultra-chic look these tights are perfect to wear.
5) Fishnet bright tights
Fishnet tights should be worn over solid colors for cool look. With stilettos and a mini skirt they give sexy look.
6) Textured bright tights
Textured tights create sophisticated look. Make them the only pattern in your outfit to look good. They look fantastic in neutral, dark, rich and muted shades.
7) Footless bright tights
Footless tights are apt for casual looks. They are worn with a mid-thigh skirt paired with a pair of flats or flip flops. They look flattering longer legged women.
These are some of the voguish styles bright tights that look elegant and stylish and presently have made great boom in fashion market.