Archive : January2011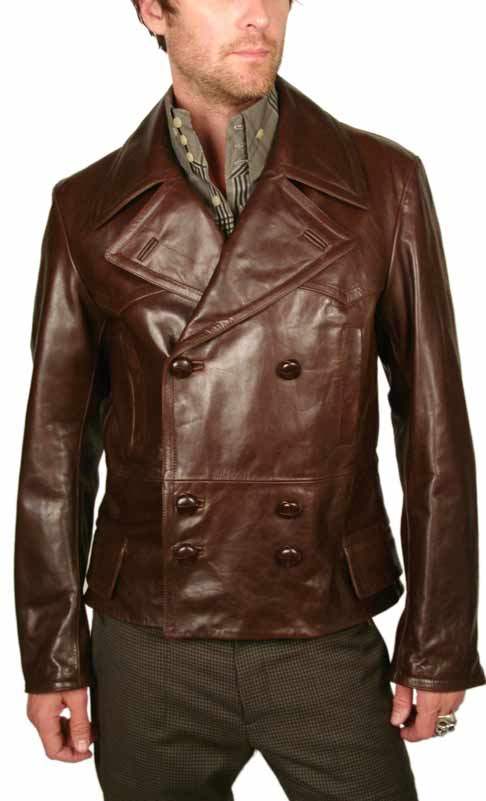 So you're wondering what to gift him on this Valentine day? There are so many options out there. But you don't want to give him something that he is going to thank you for and then store in his cupboard. Nor do you want to gift him something that has a limited life span. So what can you gift him that looks like you took the time to think about it, the effort to get it and will last?
Your answer – a fabulous leather jacket ! Here are 5 reasons to justify my selection:
1. Trendy
Think about it! Leather has never run out of style. It was first introduced in 1953. Its 2011, and its still something that makes heads turn. Leather symbolizes trendiness and an innate boldness. Which man does not like the former or the latter? A heady mixture of both is what you get when you opt for a leather jacket. Basically, a leather jacket is an investment for life. It is extremely durable and did I mention super stylish?
2. Variety
The varieties of leather jackets are endless. If your man is a bike freak, gift him a great motorcycle leather jacket. This has dual benefits. You know he is going to want to wear it all the time, so you know he will love it; plus a leather motorcycle jacket is perfect for riding in terms of safety, giving you peace of mind. Just ensure that when you purchase the jacket, it is the perfect fit for him or else the jacket could have negative consequences if too loose or too tight. Up his style quotient by gifting him a sexy leather bomber jacket with a hoodie. There are plenty of leather bomber coats available made in sheepskin, suede or lambskin materials. Each has its own advantage. If you're looking for warmth, then I suggest a lambskin jacket.
Increase his corporate appeal with a chic formal leather jacket. Its something he can combine with his formal office clothes and you know he is going to go all ga-ga over it. you probably know his wardrobe better than he does (since you've selected most of it), so opt for a coat that will compliment most of his formals.
3. Colors
Brown, caramel, tan, beige, dark beige, chocolate, black, dark black, shiny black, suede black, red – name the color and you have a coat available. You can opt for the traditional black look. The original men's clothing to define his ruggedness and masculinity. You know your man the best. If he is not the outgoing bold kind, opt instead for a beige or caramel jacket instead. It's understated and subtle in a very suave manner. If your guy loves to paint the town red – give him red!! Compliment his wild party animal instinct with a fabulous red jacket!
Investment:
A leather jacket – whichever you pick, is an investment for life. its comfortable, smart and sexy. Its not likely to go out of vogue any time soon, so you can e rest assured that your money is well spent.
So go ahead, surprise him this Valentines Day with a fabulous leather jacket!