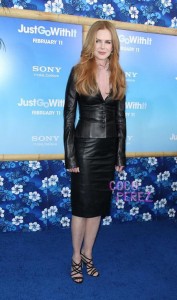 Leather pants and leather skirts are the most fascinating celebrity leather outfits which are not only trendy but also classy. The flouncy skirts are designed in leather and are doing the rounds around the most fashionable streets; these skirts are very popular among celebrities and are on the fashion lists of various leather enthusiasts. The flouncy look to the skirt is given by the tutu while cutting the skirt short into a mini. The best thing about these skirts is that it can be paired with any outfit as they are versatile and sexy.
Leather fashion is not only limited to celebrities they are adorned by many leather enthusiasts; leather is one fashion which strictly focuses on being savvy and stylish. The fall/winter 2011 leather fashion included various leather apparels like leather dresses, leather jackets, leather shorts, leather skirts and many more. Celebrities like Nicole Kidman was recently spotted wearing a leather dress and many other celebrities like Kate Moss, Catherine Zeta Jones, Nicole Richie have been spotted wearing body hugging leather dresses, they look great on celebrities as they have amazing bodies to strut body fit leather dresses.
If leather dresses is on your mind then its better you opt for a leather dress that suits your body type and makes you look classy and glamorous, leather pants, cropped leather jackets and leather vest have already created a market for themselves, the best way to don a leather pant is to pair it with a classy shit and high heeled footwear as this outfit will make you look class apart and give you the look a of a diva. Leather pieces like the polished glossy leather pants to short leather jackets will always remain in fashion and will continue to dominate the fashion world with their rugged and stylish looks
For the fall/winter season leather apparels is the best outerwear that you can always opt for without giving it a second thought. They are versatile and can be paired easily with any other fabric; the leather is just your second skin which can be paired with any clothing. Rachel Zoe featuring leather jacket over a long maxi and Sienna Miller wearing skinny leather pants are some amazing outfits that can be worn during the cold winter months.
Comments