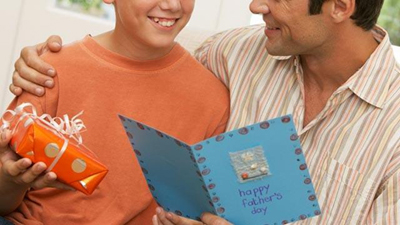 Moms nurture and cuddle but dad's provide security and guidance. The famous proverb from the King James Version: –
"Hear, ye children, the instruction of a father, and attend to know understanding. For I give you good doctrine, forsake ye not my law. For I was my father's son, tender and only beloved in the sight of my mother. He taught me also, and said unto me, Let thine heart retain my words: keep my commandments, and live."
Father's day is celebrated on the third Sunday of June every year. It is this time when children's make their father feel special. Fathers work day and night to provide food, shelter, education for their family, while mother's nurture her children with love and compassion.
After all the hard work even father's need some appreciation and what could be better than celebrating a father's day. As the father's day is celebrated on Sunday, now it's your time to shower love on your father. It can be expressed in many ways.
Check out the gift ideas mentioned below which will help you select a unique gift for your father. It is always better to buy a gift that can be put to use, rather than keeping a showpiece at home dats what father's like. Gifts like momentos and showpieces are good for mother's day, but for father' day you got to get creative.
The perfect leather gift ideas for father's day: –
Leather Jacket: – A perfect gift for your father, though father's day is celebrated in summers and to break the myth leather jackets can be worn in summers as these days they are designed using thin lamb leather which is soft and supple. Check out the various designs available and select your father's favorite leather color.
Biker Jacket: – If your father is a rider and has a bike, then there is no better gift than a biker jacket. A stylish biker jacket will definitely revive his young days and whenever he is gonna wear that jacket he is going to thank you for the perfect gift especially in winters.
Father's do not get much time to spend with the family as they are busy providing food and shelter for their families. The most important thing is that the whole family should celebrate the father's day together. Be generous and understanding towards your father and expect a lot more gifts in return.
Have fun!!
Comments