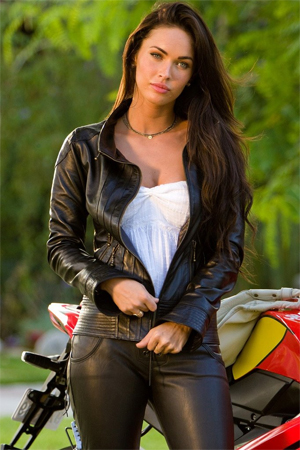 "Don't call me babe" – remember this famous dialogue by the ravishing Pamela Anderson in the movie Barbed Wire covered from head to toe in black leather? Then there was Kate Beckinsale in 'Underworld: Evolution' where she played the role of a lustful vampire; Famke Janssen in X men; the hot Jessica Alba in Sin City; Uma Thurman in Avengers – the list goes on.
Leather has been used in movies from time immemorial. Leather was used to represent the woman with spirit, courage, fire and determination. Megan Fox added a whole new hot to leather pants when she sported them in Transformers. Let's not forget Angelina Jolie who brought a whole new naughty to naughty leather items.
Rebecca DeMornay sported a gorgeous red and black leather jacket in 'An Inconvenient Woman'; Lucy Liu made waves in Charlie's Angels where she plays as a corporate trainer wearing a tight black leather skirt and a matching top.
The list is endless. Women have always sported leather skirts and leather dresses in movies with great pomp and allure. Off screen too, plenty of celebs have shown their interest in leather dresses from Zoe Saldanha who sported a hot beige dress for an awards ceremony to Kim Kardashian who was spotted shopped in a pair of skin fit leather pants. Naughty leather clothing is a huge hit in Hollywood and reality. Nothing spells sexiness like leather clothing. They are trendy, hot and are so comfortable. Leather moulds itself to a woman's body and looks fully sassy. It makes a woman look confident and comfortable with her body adding an ever better spark to the day.
Black seems to be the color of choice when it comes to leather sporting celebrities. They tend to brighten it up with quirky jewelry and fun hair styles.     Leather dresses and leather pants are beautiful to look at and wear. Leather is soft to touch and even softer to wear. So if you are in the mood for adventure or fun or just a casual evening out, women's leather clothing always adds that special flavor to the occasion.
Comments