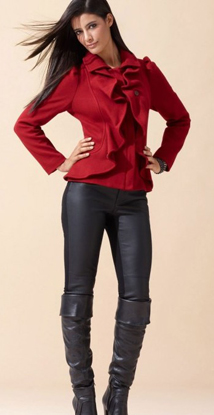 Ladies, prepare to explore the world of leather leggings because no other piece of clothing ever created by mankind can come close to giving you that heady wild-child feel as you get when you slip yourself into a pair of skintight leather pants.
A great pair of leather leggings has this unique quality of being able to suck you up and in and can transform even the most square shaped woman into a hot curvy wonder. Leather leggings are a rock and roll fantasy come true and worth every penny.
When you select your pair of leather leggings there a few things you need to keep in mind namely the nature of leather as a fabric is that it will stretch out. so always purchase a size lower because they are going to expand and there is absolutely no way to battle that. Find yourself a tailor who can take in your leather leggings for you if they do stretch out. Before you sit down always pull up your leather leggings at the knees. That way you don't have to suffer droopy old-lady knees when you stand up again. Make sure that you keep the leather soft by buffing it with mink oil and a soft cloth.
Leather leggings come in a variety of colors – the favorite of course being black! Do keep in mind that there are certain rules on how you can combine your leather leggings. Do keep in mind that they are a statement-making piece of clothing so be careful with how you dress it up or dress it down. Take your inspiration from celebrities. Leather leggings are making news in tinsel town and most of them get their combinations right. Leather leggings are skin tight and look best when combined with an equally loose top. Your style of shoes is also important. Keep all this sin mind while purchasing your pair of leather leggings.
Love them or loathe them, leather leggings have become a sought after piece and as the seasons wear on, they're beginning to appear on many a leg. Keep your eyes open and join the fashion wagon!
Comments