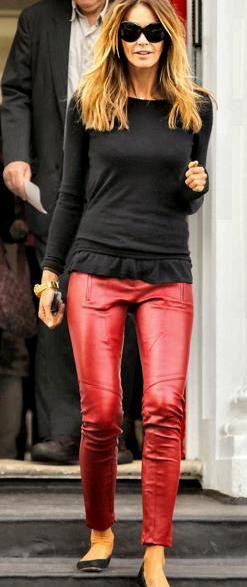 This is literally a hot leather trend which is donned by celebrities and fashionistas. A pair of leather pants is designed for every body type and it looks good on everyone, but in order to don a pair of red leather pants one must possess a lot of confidence.
If you are scared that these pants will make you look tacky, well it will if you wear a lot of make up and pair it with a corset.
Leather pants are authentic and so soft that they are a great investment. A leather pant designed using real leather looks awesome. Leather pants will always remain in fashion no matter what.
Three  Reasons To Wear Red Leather Pants: –
1.    Leather pants are a great investment and if proper care is taken they can last for a long time. Here is a quick guideline which will help you take care of your trendy leather pants : –
•    Store them at a well ventilated place.
•    Always clean your apparels with leather conditioners.
•    Never fold your leather apparels
2.    Leather pants are versatile as they can be paired with any thing. Pair of trendy red leather pants are classy and they look glamorous. For that uber look here a re few suggestions you can pair with Red Leather Pants: –
•    Pair the red leather pants with navy lace stretch dress and combine it with black pumps.
•    A tan color top will look magnificent with the red color leather pant which can be paired with animal skin shoes or nude color pumps.
•    White and red always look good. Pair a white tee with a leather pant and combine it with black pumps or combine a white color stretch shirt with leopard booties.
•    A denim shirt will look classy with red leather pants when paired with black pumps.
3.    Red leather pants are the latest fashion of the season. They look fashionable and glamorous. It is a must have collection I the wardrobe of every fashionista.
The real genuine leather feels so soft against the skin which makes the leather pants a great buy.
Comments