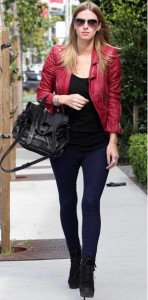 Lets get this right guys, that there are much bolder woman out there who can actually make you men go weak on your knees, you may even bow down to beauty and would be hypnoticised when you watch a woman walking down the fashion street in style wearing a red cropped leather jacket, you just cannot ignore….she is dressed to get a second look from you….this is a warning guys beware of the lady on the prowl wearing a red leather jacket, you might just be her next victim…
Here is a good news for you ladies, I thought I should just warn the male fraternity of the gorgeous looking women wearing red leather…Well! Ladies we all know that leather is a fabric that it does not go unnoticed and if designed in red then you have the right weapon but now you should know how to use it.
Lets get out of that regular black and brown color leather jacket, the latest style for this coming fall season is cropped leather jackets which features a ¾ sleeve pattern or short lengths leather jackets with long sleeves, this is one asymmetric style which is bound to get you noticed and will get you maximum attention. This style can be donned by any woman who is willing to get attentions and is comfortable with accepting compliments.
The red leather jackets are your visa to the fashion world's highest destination and that is the red carpet events. If you have plans going the more classic way then you can opt for colors like black and brown and since this is what you have thought then opt for brown bomber leather jackets.
Leather jackets have that spark and versatility that they can go with any outfit and you do not have to work that hard thinking as to what to pair you leather jacket with, the option that you have are, little black dresses, denims and a tee, full length gowns…and many more
If you are bold then get bolder and drop the regular brown and black leather jackets and go for cropped red leather jacket and prowl the fashion streets in style.
Comments