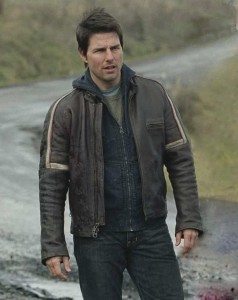 Leather jacket is one piece of clothing that does not go unnoticed and is always in fashion. His is one item which is in fashion throughout the year and especially when they are donned by the silver screen stars; it difficult to resist stars wearing leather jackets; if you have a rebel in you then leather jacket is one outfit that should be present in your wardrobe.
Today's movie world stars take great pride and care as to what they wear and how they look, leather jacket is one outfit which has the ability to save their skin. The soft supple nature of leather with its raw rugged looks is perfect to create a fashion statement.
Leather jacket have been associated with the bikers and rock stars but the movies tars are not far behind in donning the latest fashion of the industry, this is one reason as to why people of different ages and regions of the country find it so very appealing.  Leather jacket worn by bikers protect them from abrasion and cold winter winds of the season. Some of the most fascinating leather jackets worn by the movies stars are, the G1 bomber worn by Tom Cruise in Top Gun, The red and black thriller leather jacket worn by the King of Pop and I forgot to mention the most famous movie leather jacket worn by Marlon Brando in the movie The Wild One, since then these leather jackets have been in fashion and are named after the stars who have worn them. Everyone wishes to associate themselves with these famous silver screen stars and hence wearing a leather jacket donned by your famous movie star will also get you attention.
The bomber leather jackets are associated with aviators who wore these bomber jackets to protect them from cold weather conditions at high altitudes and hence the name bomber leather jackets. The ever popular leather trench coat which have gained immense popularity because of the movies like Matrix, they are a perfect wear to protect you from cold, chiller weather condition. The length of these trench coats depends on the wearer's preference.
Comments