Archive : September2011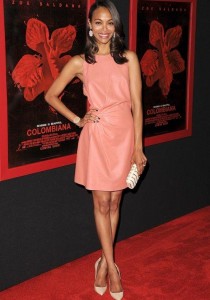 First it was Blake Lively, Jennifer Aniston, and Malin Akerman who sported the tight leather mini dress but the one lady who shows her continued patronage to awesome leather creations is Zoe Saldana. She first appeared in a gorgeous beige leather dress with burgundy accessories at ___. She stunned onlookers and the media alike. Taking a page from the same book the 33 year old Avatar star gave reason for applause at the Los Angeles premiere of her new film Colombiana on 24 August.
The gorgeous Saldana plays a cold-hearted murderer and vigilante murderer seeking revenge and sure the movie may do well but her leather dress at the promos guarantees that at least the fashion conscious would be sure to check it out. Nothing promotes a movie better than a well dressed actress and add to that a leather mini dress and you've guaranteed yourself a sure hit.
Elegance was the talk of the premiere as she strolled across the red carpet with her glossy hair, salmon pink leather dress and the beautiful shoes. The Valentino leather dress with a sheer lace back beautifully highlighted Saldana's slim figure. She clearly commanded the dress in all its simplicity while radiating oomph and beauty.
Leather dresses must be combined well and for those who are in any doubt just look at the beautiful Miss Saldana who combined her salmon pink leather dress with simple, pointy pumps from Christian Louboutin Pigalle and a fashionable Salvatore Ferragamo woven clutch with gold sequin detailing.
Zoe Saldana wowed the masses in her beautiful leather dress and if you wish to look just as fantastic in a leather dress then you don't need to have tons of money or that slim figure! Let your elegance shine forth like Zoe Saldana in a beautiful leather dress today.