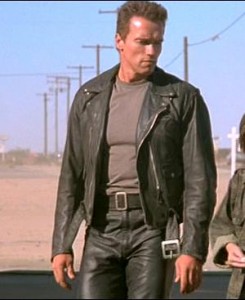 You should be thankful to Hollywood actors who wear leather jackets because of this you are able to relate your self with your favorite star and make your very own fashion statement. Movie leather jackets have always been hit even though the movie was a flop. As far as remember there was this one movie called Only Angels have Wings which was made by Cary Grant in 39, which featured the flight jacket.
Then came superstars like Marlon Brando who wore a classy leather jacket in 1953 in a movie called The Wild One, as leather was earlier associated with wildness and the jacket was perfect for the role he played in the movie, this jacket gained immense popularity and everyone who watched the movie wanted to have that jacket. So now you get the idea as to how these movies stars can make a leather jacket so popular.
If you remember; leather jackets have been worn by many contemporary stars like Brad Pitt in Fight club, Vin Diesel in XXX, Tom Cruise in Top Gun, Hugh Jackman as Wolverine and many more stars have donned this epic piece of fashion and have redefined their own fashion statements.
The black biker jackets give a bad boy image who is considered to be strong, dangerous and wild and women do find bad boys to be enticing and attractive. Leather jackets is what makes them achieve this look and plus also need to put in some effort in getting a girl, beat up some good guys make a name for yourself; hope you do not take this seriously, leather is associated with machismo and gives the wearer a rugged look making him look classy and stunning. Movie leather jackets is what fans relate to an they wish to look like their favorite movie stars, and the best to resemble you favorite movie star is through donning the same clothes as did by your favorite star. This helps in identifying themselves with their favorite movie stars.
When you wear a movie leather jacket you are noticed and people associate you with the actor who wore that jacket in his or her movie. The movie style leather jackets have been the latest rend in the leather fashion industry which is followed by one and all. These jackets are not only associated with riches but they are also related to charisma.
Comments