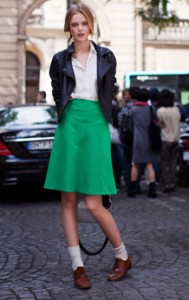 The thought of wearing leather apparel to school is just a little bit shocking if not appalling. But its time to stay in sync with the times and today's generation has moved past old stereotypes. Leather is no longer only the bad boy's or the cow boy's playground. Leather clothing has extended itself to every part of society. It has quietly, surely and steadily lent its sheer style and fashion appeal to everyone and it's about time you add it to your school wardrobe. Given below is that one leather item that should make it to your wardrobe:
•    Boys – Leather vests:
Leather vest is the best option for school kids; this is one outfit which separates you from boys getting maximum attention. Combine leather vests with a pair of denims and a classy shirt to stand out from the crowd. A leather vest is the perfect way of showcasing your machismo and confidence without looking decorative. Deep browns and blacks are a fashion staple.
•    Girls – Leather shorts:
If your school has no restriction on shorts that leather shorts are so ideal. They add zing to your school wardrobe. Leather shorts are not just casual like denim cutoffs but rather hold their own in the school environment. Girls, beware though – don't select super short leather shorts for school. Leave them for beach wear if you must.
•    Unisex – Leather jackets:
A must have for both school going boys and girls; a leather jacket is a fabulous addition. They add oomph to any outfit you normally choose to wear. Leather jackets come in a whole range of styles and designs and have been a favorite since time immemorial among those blessed with a sense of style. Long, short or cropped – leather jackets look great and feel great.
Boys avoid anything with too many tassels or something that gets too decorative. Girls, make sure the leather jacket you choose fits you well and makes you look good. Choose a style that flatters you and your personality.
Comments