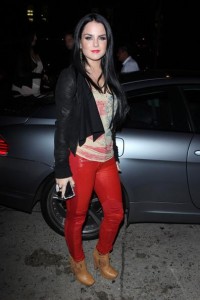 Leather skirts, leather shorts have always been in the showbiz and have claimed their importance in the fashion world, but ever trendy leather pants have always been associated with bikers and motorcyclists. This article is here to make you aware of the latest leather trend…and this is one fashion that no fashionista will give a miss, the trendy leather pants. This upcoming season is going to be full of velvets, metallic color accessories and footwear and red color leather pants…yes you got that right, red color leather pants. These designer pants were first seen on the runways worn by skinny models strutting the new fashion in style. Designers like Balmain, Isabel Marant are some of the designers who created this beautiful fabric in classy bold red and gave it a whole new meaning to leather pants.
Whenever a new fashion is showcased, they are always available in two looks, first of course the designer look and second the affordable look. The red leather pant can be paired with innumerous options, but try to keep jewelry to minimum; the classy bold red leather pants looks great with white or black top paired with classy black leather boots.
Some people are not comfortable wearing red leather pants as it gets the wearer maximum attention and if you are one of them then you can always opt fro pleather as this is an affordable yet trendy option. If red leather pants are not your forte then go for other accessories designed in red leather like leather hand bag or leather boots or materials like a clutch or a buckle, but if you wish to make a bold fashion statement then red leather pants or red leather jackets is a must have in your wardrobe.
Resolve the fashion mystery this fall season and don classy red leather jackets; if you are looking forward to turn heads and grab some attention then leather is one fabric that will definitely help and designed in color red will make you look savvy and stylish. This is a must have fashion trend for your wardrobe.
Comments