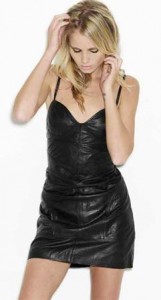 Leather demands confidence and attitude which the wearer has to posses or else fabric may make the wearer look lousy. Leather dresses and skirts have been the favorite among leather enthusiast this summer season.
Here is good news for all the die hard leather lovers. The leather apparels for summer are much thinner and colorful so that the wearer can select from the vast collection available.
Let's take a look at some of the famous leather collection this summer: –
The best part about summer leather clothing is that it can be easily transformed into the fall wardrobe.
•    Leather Tops and Shirts: – The latest summer leather designs and patterns include leather tops for women and leather shirts for men which are not too heavy like a leather bomber jacket or a blazer. The leather shirts are available in many designs and patterns to complement your perfect summer wardrobe. There is also an exquisite collection of leather tops which are available in sleeveless pattern to suit the summer attire.
•    Classy Leather Shorts: – Nothing beats the fashion of leather shorts. The wearer never goes unnoticed and bound to get loads of compliment if worn right and matched with proper accessories and a top. The best combination is pair black color leather short with high heeled leather boots and a nude color loose summer top. You can also accessorize it with a hippie style necklace to complete the look.
•    Leather Dress: – This is the hottest leather apparel this summer season. Be ready to sizzle the whole crowd and draw attention towards you wearing a hot and short leather dress. Pair this dress with trendy leather heels or stilettos to complete the look. These leather dresses are available in strapless, thin strapped, halter necks, sleeveless and many other patterns.
Do not believe in myths and try leather apparels for yourself this season and rock the season in style.
Comments