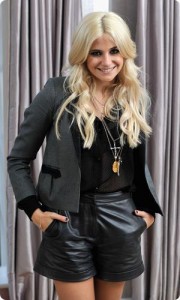 The rugged and stylish feel of leather is what makes leather shorts a high fashion statement. The hot weather actually demands the removal of some clothes. To survive this torment you need to wear comfortable and loose clothes which will allow your skin to breathe and cool off.
The leather shorts is one way to look stylish in this hot weather which will not only make you feel comfortable but will make you stand out from the crowd. Leather short paired with sexy blouse and flat shoes is the perfect summer evening attire.
Leather shorts are versatile and can be paired with trendy tops and footwear: –
•    A perfect pair of trendy canvas shoes will make the perfect choice for leather short attire. This is the most comfortable and trendy style, but when opting for the shoe color opt for green, red or yellow as these colors will complement the summer heat. This combination will definitely enhance your appearance.
•    Leather shorts can also be paired with the plain tees, but the latest trend of the season is the graphic tees. Select a tee that will complement you personality and a color that will complement your complexion. Simple stylish attire would be a plain white or black tee combined with black or red leather short.
•    A perfect military style would be combining your leather shorts with a leather jacket. A military green color tee inside the jacket is the perfect combination and a dog tag as an accessory to complete the look.
•    A comfortable short summer shirt in white color when paired with your leather shorts will definitely turn some heads.
•    If you want to stand out from the crowd then pair your leather shorts with tight body hugging tee and combine it with boots.
•    A perfect rock star look would be pairing your leather short with loose tee and heeled footwear, it reminds of Madonna from the 80s.
Leather shorts are the perfect option for leather enthusiasts. The latest summer trend is back in style and is available in many colors that will complement the summer look. Leather shorts is the perfect ideal wear for hot summers.
Comments