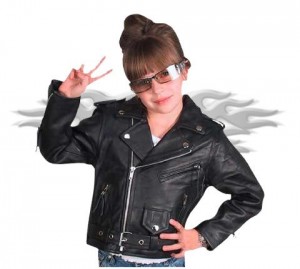 When it comes to kids dressed in leather I just cannot help but just keep smiling. Its always fun to watch little ones trying to behave like adults wearing cute little leather jackets or leather vests. As leather always been associated with bikers and rock stars it is difficult to associate it with kids; but at the same it is adorable to watch kids wearing leather. Here is a little fashion advice for people who wish to buy leather apparels for their kids.
Latest Leather Style:-
When it comes to latest leather style, slim leather jackets and colorful leather are the latest trends and if you are worried that it may just be a passing craze then let me tell you this that this fashion is here to stay. The very first leather jacket was introduced in the 50s and it still continues to rock. Leather is one fabric which will never go out of style. It just keeps getting better with every season and every year. Leather apparels for kids are designed using genuine leather as it has to survive the real rough treatment in the kid's world.
Size:–
Sizing is a major issue when it comes to selecting kids leather apparels. Your little ones are definitely keep growing and will also grow out of the leather jacket; so what should be the perfect size when selecting a leather jacket or pants for a kid. Always buy one size bigger than your kids actual size as it can be used for extra year and then can be sold at eBay for a good bargain or it can be passed on to the younger one.
Cleaning and Care:–
Leather care is of utmost importance and this is one thing that should be kept in mind when purchasing a leather jacket for your kid. Remember that leather protects from cold winds and abrasions; but when it comes to ids the leather may have to go through a little extra suffering. Use leather conditioners to keep the leather clean and use it one or twice in a month. To remove crinkles simply use team treatment which can be given while giving shower.
Comments