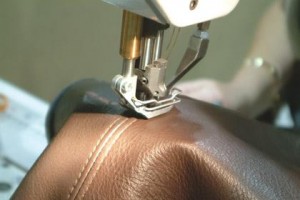 Are you shocked? But this achievable and actually very simple…All you need is leather sewing machines and fine leather that will fit into the sewing compartment of your machine.
Correct needles and a leather which is 1/8th inch thick. As thin leather is much easy to glide through and it will also not break the sewing needles. Well! You can call this article as a crash course on being a leather jacket designer.
Just keep reading for more tips as you will lean slowly and gradually. Remember leather is a fabric which is very fashionable and it is absolutely fine if your first jacket is not very flashy. Design a simple jacket and later when you learn the art you can opt for the complicated one.
Here are a few tips for designing leather jackets: –
•    Leather is a fabric which will not stretch. Opt for a simple to design pattern as this is you first project do not try to design anything complicated as this will only ruin your confidence. Remember this whenever you are stitching leather even the smallest mistake can make the jacket unbearable.
•    First cut the pieces of leather and start storing the leather pieces together at a place where you will not be confused. Get all these pieces together and start matching them up with a masking tape. It is always advisable to use a masking tape a d pinning the leather pieces will only cause holes in leather.
•    Once you have finished designing the paper patterns put leather pieces on the paper pattern and start to cut your leather with scissors. Use sharp scissors for the task.
•    For sewing leather on sewing machine it is always better to use a size 11 needle. These size 11 needles are much stronger than the regular size small needles. These needles are designed to sew leather and hard materials like leather and they will not break.
•    Now add the same color matching thread to your sewing machine as the color of leather. It is always better to purchase leather sewing threads for sewing leather as these threads are much stronger and capable of keeping the pieces intact.
•    Never force the leather to stretch and start sewing the pieces that you had cut out from the paper patterns.
•    Add leather glue to the task before you start sewing a particular leather part. It is important that you keep your head together and be patient. Slowly and steadily you will end up designing a beautiful leather jacket.
Designing is a leather is a very simple task provided you remain calm and patient and you will end up designing the most amazing pattern one day.
Comments