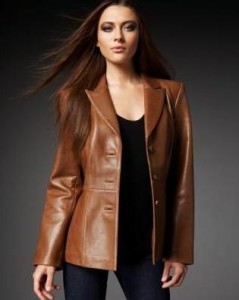 Leather blazers are a perfect addition to your fashionable closet. Leather blazers have actually redefined a new leather style which is voguish and classy. Leather being the epitome of the fashion industry has always given the fashion enthusiasts a reason to smile.
There are many types of leather blazers available, but it is important to have some handy information ready when you want to select the best one for yourself; so you do not get confused by the plethora of leather blazers available in the fashion market.
Selecting a good leather blazer is not a technique but is an art and trust me after reading this article you will be smart to select this piece of art.
•    It is important that you opt for a leather blazer that suits your body type and a color that matches with you all the clothes you have in your closet. Always remember that blazers are though a style statement but if not worn properly or with matching innerwear then this fashion statement can go terribly wrong.
•    The length of the leather blazer is obviously below waist and should give a relaxed fit over your shoulders. Do not buy a blazer which will hang loose on your shoulders and make shoulders look droopy. Purchase a perfect size but see to it that you are comfortable in it and the blazer is not too tight; as it is important to breathe.
•    Always a purchase one size bigger because I am sure you will not be wearing that blazer alone; the leather blazer has to be combined with a shirt or a tee inside; so select a size that will fit on your shoulders perfectly with your shirt on.
•    Now when selecting the color, please do not buy black; this is one of the most common color available and every second person wears it. There are many beautiful shades of brown like light brown ,camel color, bust color, dark brown to tan; explore these options as these colors can be paired with any clothing.
•    Pair you leather blazer with a shirt and trousers to attain formal attire and pair it with tee and denims for casual attire.
Leather blazers definitely add to your social status; and they also provide protection from cold harsh winds during fall.
Comments