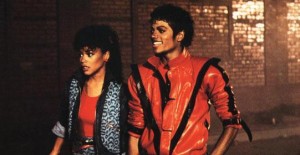 Tribute was paid by many fans of Michael Jackson on his second death anniversary on June 25th.  A day after the 2nd anniversary of MJ's death, the famous red and black color leather jacket was sold for $ 1.8 million! at auction .
The famous jacket was bought by a Michael Jackson fan who is a commodities trader at Austin Texas was sold for a whooping price.
The famous red and black jacket reminds you of the era when 1983 when the whole was rocking to this famous song "Thriller" sung and choreographed by the King Of pop himself.
There is an interesting story with this jacket. MJ used this jacket for a lot of stage shows and asked his designers to create a similar one so that he had an alternative one as well. When asked by the designers if he could dance in this jacket. Michael just smiled and asked the designers to just watch the video.
Based on the plot of zombies coming put of their graves and dancing with Michael Jackson was an instant hit which actually took the world by storm. The signature move of MJs ' The Moon Walk" was always a hit which he performed especially during all his stage shows and promotional videos during the launch of his new albums.
After watching the video of 'Thriller' there was rage for his red and black color leather jacket as all the Michael Jackson fans wanted to be a part of his huge success; the look alike of the famous jacket was sold at every fashion boutiques and retail outlets by the name of the "Thriller Jacket".
Michael Jackson actually performed some of the most iconic moves of that time without any difficulty. Well!! Guys there will never be another Michael Jackson born ever. Its always a pleasure to remember the era where the 'King of Pop spread his magic.
Comments