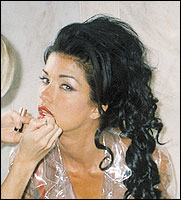 Fashion does not mean tacky look. It is something that should enhance your personality. But in spite of knowing this people commit mistakes that leads to ruining their appearance. Here are given some of the fashion DONT'S that should be avoided at any cost in order to look decent and appropriate.
Wrong Colors
Wearing wrong color dress ruins appearance. Right color dress complementing skin tone speaks volumes about you. It makes you look your best and make look vibrant and vivacious. Thus stick to right colors in dressing.
Excess makeup
Excess make up give much mature look and also creates a harsh look. It's always better to keep makeup light during day time and little dark for evening.
Large clothing
Many women are under impression that large clothing's hide flaws. But in actual it's not so. They make you appear larger than you are. Always avoid large clothing.
Inappropriate shoes
Shoes are one of the greatest accessories that largely enhance show of the outfit. Wearing inappropriate shoes is one of the greatest fashion mistakes. Never do so. Like if wearing flats with short leather skirts your skirt will loose its essence. Instead go for stilettos.
Too much jewelry
Thinking that too much jewelry makes you attractive is a very wrong notion. It's not that it is bad but how much to wear depends on the occasion you are heading. If it's simple birthday party or office party or simple get together of friends then thin, fine necklace and a pair of earrings is enough. If its occasions like prom or wedding then a pair of embellished earrings, funky necklace, bangles, few rings, a brooch etc is appropriate. All time too much jewelry is not good.
Stuck in a style rut
Latest fashion does not mean you are abiding to follow them. Those who do so commit greatest fashion mistake. One should wear dress that suits them.
Comments