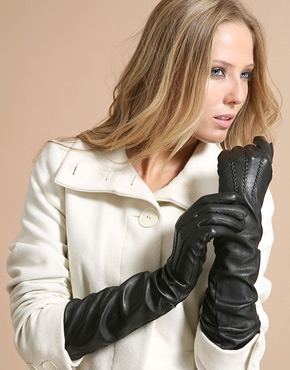 Staying in fashion is something every woman desire for. But just wishing is not enough, efforts should be done to know what is latest in fashion. This time long leather gloves are in the furore. They are not new in the fashion world. Earlier in the 16th and 17th centuries they were highly worn. Fashion has returned and now women are again wearing this sexy, polished and elegant accessory in style.
Long leather gloves looks elegant for the highly formal occasions like prom, wedding, evening party, ball, opera etc. They extend till above the elbows and are also known as the opera length gloves. With formal dresses they look amazing. These gloves really look cool with the strapless, off the shoulder, and other sleeveless dress styles.
Nappa leather is the most exclusive leather fabric especially used to make long leather gloves. It is very high quality leather and is one of the women's best choices when purchasing formal leather gloves. They are very comfy in wearing. Being comfortable this fabric gloves look beautiful and elegant with the formal dresses.
Long leather gloves are not simple style gloves but come in various styles. It include straight fitted gloves, finished edge gloves, ruched gloves, Lace-up styles and slightly flared or flared arm styles. Make statement in any style glove you want. Similarly they are available in various colors also. Black and White are the basic colors but apart from them long leather gloves come in various other hues also like two toned colors, metallic colors, red, gray, brown, purple, blue, green, grey, gold, silver, violet, burgundy and so on.
Long leather gloves also come for winters. They are not necessarily to be worn in formal occasions only but can be worn generally to protect hands from cold. These winter gloves are lined and sometimes insulated for extra protection from the cold. They are practical, elegant, stylish and functional. Black color is one of the most popular colors for the winters but other neutral colors such as brown, tan, navy blue, yellow etc are also available.
Long leather gloves are fashionable and functional both. The loving fact about them is that they can easily turn into any style you want to project.
Comments