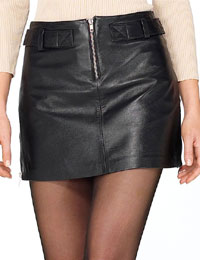 Fashion is a creative thing. Looking fashionable does not mean he or she is wearing new clothes, it means how well they adorn it on them. It is about knowing what's new in the trend and how to carry it. Thus you don't need to purchase new dress every time. With old dress also you can look chic just by knowing few fashion mantras.
Accessories work as right hand of clothes in taking the look to the height of chicness. Also they are an important part of fashion world and are expanding with each passing day. They have acquired the position that without them look is considered incomplete, though how much beautiful the dress is. This article will explain the same taking an example of exclusive leather skirts.
Leather skirts are one of the common fashion trends that will never become passe. They project femininity, thus one amongst favorite dresses of a woman. Though they are stylish enough but addition of few more creative ideas make them look more fashionable. If you own leather skirt, then give it a touch of enhancement by adding some accessories to it.
Accessories like snaps, buttons, zippers, nickel, studs etc can be used for enhancement. Apart from this, go for tops that will enhance greatly the look of your leather skirt. Thus complementation of top with the skirt is must. Gloves are another accessory that will make attractive the look of your leather skirt. They will make your skirt a lot better than simple. Knee high boots or heels are amongst the best accessories that give leather skirt a vamp look.
A leather skirt is a very fashionable piece of clothing and if worn with accessories add more refinement to it. Adding accessories is an art, which beautifies the appearance. Accessorize your leather skirt and create new definition of fashion.
Comments