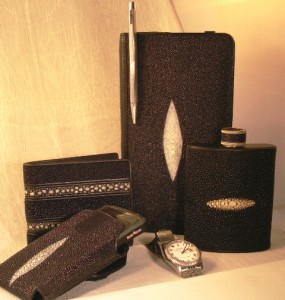 Stingray leather is latest in trend nowadays. It has decked leather market with its amazing appeal and has become a new fashion statement. Outfits and accessories made out of it bring a touch of class to appearance. Ranging from dresses, belts, shoes, handbags, wallets etc stingray leather is used in the making of everything.
Apart from versatility in products, stingray leather endures a longer life than expected from other leathers. It is incredibly durable. Stingray leather is very hard to tear and wear and its reason is its unique structure. Most leathers are composed of fibers running parallel to each other while stingray leather is made up of fibers in crisscross pattern that runs in every direction. This, combined with the scales' amazing resistance to water and even fire ensures this leather a longer life than possibly any other type of animal hide.
With durability and strength stingray leather is very easy to take care. It only requires occasional cleaning with a damp cotton cloth and air drying. It is enough to maintain its radiance. Cleaning agents should never be used and it should never be put into the dryer. Moreover it does not get damage with moisture like other leathers.
Attractive stingray leather has flooded the fashion world and is considered synonymous with elegance. Its unique beauty is highlighted by the shiny pebbly texture of the skin, which makes it shine like a pearl when light hits it. Imagine you are wearing stingray leather jacket and light hit you, how dashing you will look. This art only stingray leather possesses. Thus stingray leather is perfect to turn heads and get showered with compliments.
Stingray leather cannot be made commercially like other leathers and that what this expensive commodity. But paying more for a fabric with so many qualities is worthy. Stingray leather products are strikingly beautiful that turn them more towards fashion than functional side.
Comments