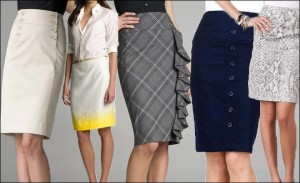 You can take pencil skirts as fun or seriously. They are a blend of both. Women find them very appealing as they enhance every figure. Women are seen flaunting style in pencil skirts everywhere. Whether you are in a mall, at office, going for evening party, for lunch party, going out with friends, business parties etc. everywhere they are fun to wear.
No other outfit beats pencil skirts when it comes to flattering figure whether casual or for business. They hug women curves beautifully and bring out femininity in them. All lengths pencil skirts are also available. If you want to look sexy and stylish then short pencil skirts are best option for you. If looking stylish yet simple is your agenda then knee length pencil skirts are for you. If you are aged women who want to look feminine but not cheap then long pencil skirts are amongst your favorites.
As it is women outfit then making them in multi colors comes reflexively to couturiers mind. Though white, black and gray are amongst the favorites but other colors are also highly available in them. From general women to celebrities all are big fan of these skirts. Comfort level is also the biggest reason of their popularity. Slit in front or back make it comfortable and allow body movements. And above all impart stylish look to it.
Pencil skirts are very versatile with foot wears. It makes statement with number of shoes. If wearing basic colors like black or white pencil skirt then stilettos or high heels shoes best define it. If the pencil skirt is denim or khaki then flats or high heels look best with it. Boots look good with leather pencil skirt not with other fabrics.
Making ultimate style statement and scaling new heights of fashion with pencil skirts will add entertainment to your life. Flatter yourself with pencil skirts and add fun to life.
Comments