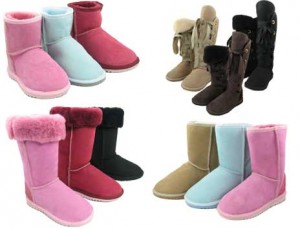 Boots are very special type of shoes that lend great looks. Leather boots are much in hype nowadays. Let's become lil more specific to give you clear idea about which type of leather boots is much looked for. Leather Ugg Boots is that stylish footwear that raises appearance to heights. They are made of sheepskin leather hide.
Leather ugg boots are comfortable and warm, and many celebrities and models have been spotted wearing them. They have become a great choice of many people. For making fashion statement also they are appropriate enough. This footwear can be worn on daily basis as well on occasions also. Now if you are thinking how to wear ugg boots here is the guide for you. Follow it and become the most hippie girl.
Buy in neutral colors
Leather ugg boots come in myriad of colors like red, blue, black, brown, maroon, purple and many more. But their show best enhanced in neutral colors like black, brown, beige, ivory, taupe, gray, white etc. These colors are versatile enough to be worn with any outfit and also give elegant look.
Wear them with skirts
Leather ugg boots look great with any length skirt. Whether it is above the knee, below the knee or above the ankle it does not matter. But yes it should not touch ankles or below it, else your ugg boots will become invisible inside skirt. Remember colors make a great difference in giving great look, thus keep color of boots and skirt in mind.
Pair them with shorts
Leather ugg boots make a great pair with shorts. Though usually seen worn with jeans shorts but if you couple them with leather shorts will look ravishing. They can also be worn with different kind of shorts, such as unique patterns, bright colors, or maybe different kind of fabrics.
Tuck jeans into them
Tucking jeans into leather ugg boots is a fabulous fashion statement making style. It is much in rage presently and many women are seen doing so. Wear a light or dark colored shirt, tie scarf around the neck, wear hat and you are all set to make waves.
These are some stylish styles of wearing leather ugg boots.
Comments