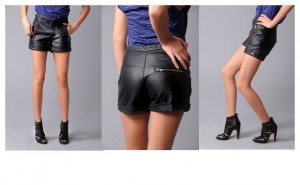 As fall is approaching leather outfit trend has also taken turn. This year leather shorts are greatly in trend. They are referred as key piece for every woman's closet because of its versatile nature and edginess. It captures cool spirit and a style rebellion at its best.
Leather shorts are the most sensual attire of women. It is so tempting and alluring to prompt one to purchase it. They are also good enough for getting into a spicy look. It is a very sensuous and sexy outfit. Thus it is a great fun to wear them. This fabulous attire is one of the most enticing leather fashions.
This outfit comes in multitude of colors for flaunting women femininity. For example, black brown, pink, red, gray, blue, purple etc. Like colors styles are also myriad in them like plain leather shorts, stylish leather shorts, side interlacing leather shorts, zip fly leather shorts, concho studded leather shorts, and pocket leather shorts and so on.
Leather shorts impart knockout appearance by enhancing every curve of the body. Women having nice legs are lucky enough as leather shorts just look awesome on them. Such a happening dress should be certainly present in everybody's closet for attaining profound look. Likewise tall and slim women look so attractive in leather shorts to make one speechless. It is an unusual dress.
However great the fashion is but if you don't know how to wear it everything goes in vain. Similarly leather shorts also have a way which brings class to it on wearing. Do remember they are a statement on their own; therefore keep the rest of the outfit simple. Plain top, thigh high boots and minimal accessories will raise your appearance to the height. Also black tights or sheer black hosiery make a great pair with leather shorts. They look fabulous by coupling with fitted tuxedo style jacket or blazer, tank top and leather halter top. These tips work greatly for a pulled look. But most importantly you need confidence to carry this bold, sexy and smart outfit well.
Get into dynamic look with dashing leather shorts to make individual style statement.
Comments