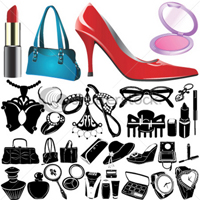 Certainly look of the outfit remains incomplete without accessories. But just donning accessories is not enough. It is like simply going to temple because it's considered good, not because you are aware about its positives. There are certain rules of accessorizing outfit, which should be known and followed so as to bring out the best in you.
Learning do's and don'ts of accessories help a lot in adding pizzaz to looks. Create an exclusive style statement for you by giving polished look to you.

Do's of Accessories
– Every accessory does not look good on every outfit. Hence do select accessories that enhance your attire. Accessories complementing outfit gives wearer best look. For that have a look at your outfit's colors and texture and pick accessories appropriately.
– Do select accessories that can adorn number of outfits in your wardrobe.
– When accessorizing keep your accessories simple, chic and glamorous.
– Walking with the latest trends is the sign of Fashionista existing inside you and maintains it. Thus always purchase signature accessories that are hitting market recently. It will also increase the show of your wardrobe.

Don'ts of Accessories
– Never overdo your outfit with accessories. It will overshadow you and your outfit both. Do remember your main aim of wearing accessories is to enhance your looks.
– Do not wear too many latest accessories at one time. It is good to be updated but overdoing is not good.
– Do not simply wear any accessory with any outfit. Charm of the snazzy necklace will not come out until it will be worn with right dress. The true art of accessorizing lies in knowing on what to put them on.
Keep these do's and don'ts in mind while accessorizing for adding shine to your look. Accessorizing is a great fun; don't ruin it by merely wearing anything. Get dozens of compliments for your impeccable style of accessorizing by following above pointers in your clothing.
Comments