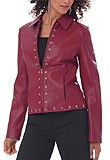 Summer season and leather outfits, it's sounding strange, Right? But it's true. Leather outfits are weather friendly and looks great in all seasons. Recently in vogue are lightweight leather jackets. They are very chic and provide coolness even in scorching sun.
Their soft and light material make them appropriate wear for summers. They can be paired with number of outfits like skirts, pants, tunics etc. Color wise they are very versatile. Bright colors are widely seen but this summer even dark colors like black, brown, gray etc are seen in softer tones. In all occasions whether formal or informal these summer leather jackets are apt for wearing. Even in office they make the show. Women feel much comfortable in them and that's why so close to their heart. Also they show high degree of refinement in appearance. Thus it means you can wear a leather jacket practically anywhere. Patent leather though again in vogue this year but will not be seen in summer. Jackets made out of patent leather make feel very hot, thus avoid them.
Leather dresses in summer is not a new thing as this fabric adjusts itself according to the weather. This summer emergence of these leather jackets has made great boom everywhere. They have a great feminine appeal too. Style of leather jackets that are in fashion this summer is short and tight-fitting. With short skirts they make a great pair. Biker boots are considered an ideal accessory worn along with them. Also they come in long lengths worn along with a belt.
Apart from the above advantages of leather jackets, one of the biggest one is that if they get dirty can be easily wiped away. Summer is a holiday party season, thus clothes getting dirty is very common. Party can held either in a big hall or along the beach but dirt is a guest that comes without addressing, thus to be prepare for it in advance is the best way to deal with it.
Enjoy this summer with these amazing lightweight leather jackets. And don't fret next time over summer as your favorite leather outfits will never leave you. Create a feminine and dramatic look this summer with these lightweight leather jackets.
Comments