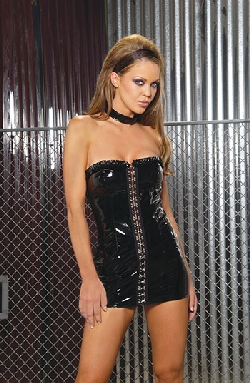 There are various sexy applications of leather for women like corsets, teddies, pants, mini skirts, and halters, thongs, and chokers etc but nothing beats the look of leather lingerie in sexiness. It is the latest sexy fashion in leather outfits that add great sex appeal to the wardrobe.
Soon it has taken toll over other sexy dresses due to many reasons. First it is soft and supple yet sexy. Second being tight also it does not cause itching or scratch when you put it on. And third it gives an arrant sexy look. Nothing can be compared to the feel and touch of leather lingerie. Moreover as it an outcome of leather nothing smells like it and has its own aroma.
Leather lingerie heat up to the same temperature as your body and thus gives a feeling of second skin. Moreover it looks absolutely divine on women. They are also a great way to boost confidence level, thus helps on personal front also.
Have fun and look fabulous by adding a little spice to the appearance with this alluring leather fashion. Besides adding leather lingerie to your collection heat up your sex life.
Comments