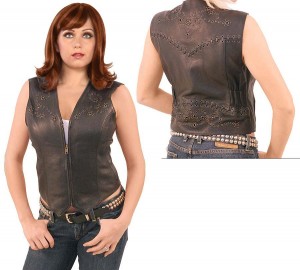 Nothing beats the look of leather vest designed using fine leather, all you need to do is let your imagination run a little wild and see the picture of a leather vest that you would love to wear which will not only enhance your personality but will also raise your glamour quotient and improve your sex appeal, leather vest do have the ability to make a woman look gorgeous and exotic even when she wears an extra piece of clothing….wow! Now that's what I call glam. This is one trendy item which will not let you down and is perfect wear to al occasions. Leather vests are designed for both men and women. Let us see what is in the store for ladies this year.
This is your time to reveal your curves, enhance your sex appeal and make men go weak on their knees, the rugged nature of leather when paired with your soft gorgeous looks is a good chemistry. These leather vests can be worn over tops like shirts, tees, or just without tops depending on your comfort level. You do not have to be a biker chic to don a leather vest; you can just wear it to create your fashion statement.
Women are keener than men and hence they have more styles to offer, the collection of women's leather vest is far more superior than those of men, the collection of leather vests that has the ability to make you the cynosure of all eyes getting maximum attention.  The women's leather vests have been decorated with conchos which is an instant attraction and a striking feature. The scalloped pattern is what makes this a definite addition to your wardrobe. There are various other patterns which will make you look like a diva, there are leather vests which will make you look classy and stylish, some have collars and some do not have collars it always better to opt for a leather vest that fits your body and does not cling to your body
The men's leather vest collection may not exhibit more styles and variations but will be a good addition in your wardrobe to make a new style statement.
Comments